Z-Max Choke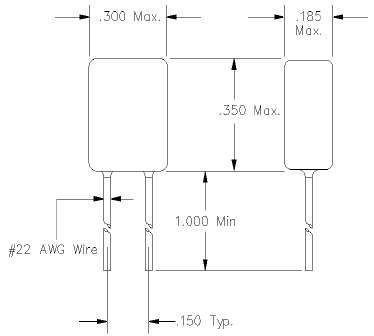 Ferronics has developed a line of ferrite chokes called Z-Max that are specifically engineered for maximum impedance to more effectively suppress high frequency noise or oscillations.  Z-Max begins where simple beads leave off. They have two to three times the impedance of a standard bead occupying the same space. This is a major benefit when you consider the value of space on a circuit board.
Z-Max chokes are color coded to facilitate inventory control and production. This feature alone translates into substantial savings.  At the top of the Z-Max line is the "Gold" series…so effective over a wide range of frequencies it's patented. Z-Max "Gold" has the unique capability of providing a very flat impedance profile across a broad range of frequencies, from 5 to 500 MHz.
The "Gold" series Z-max chokes take the guesswork out of noise suppression.  You no longer need to know the precise frequencies of the noise causing EMI/RFI interference.  By using a "Gold" series Z-Max choke right off the shelf,  you can dampen a full range of frequencies necessary to eliminate most noise.
To further meet your needs, Ferronics can adjust the amplitude of impedance to accommodate most practical requirements.  Z-Max chokes are available bulk packaged.  Packaging taped on reels can be provided on special request.  Note: due to supplier shrink tubing limitations,  "Gold" series may be supplied color coded white and  "Blue" and "Red" supplied in varying shades off of primary color.